| | | |
| --- | --- | --- |
| Toolkit Launch: Catalyst to Empower FDWs | | |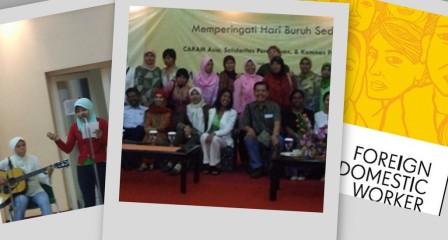 JAKARTA 2 May, 2007: In conjunction with Labour Day, CARAM Asia launched a comprehensive Foreign Domestic Worker Campaign Toolkit. The main objective of the campaign toolkit is to build capacity and empower Foreign Domestic Worker's (FDW) groups along with other support groups to exercise their labour and health rights. It is also a basis for a regional campaign aimed at sensitising attitudes towards FDWs. About 120 people attended the launch co-hosted by Solidaritas Perempuan and the National Commission on Violence Again Women in conjunction with Labour Day. Some 60 returnee FDWs, members of civil society, Human Rights Commissioners, ASEAN and ILO representatives and other relevant Indonesian government officials were present at this function, a reflection of this issue's importance to Indonesia, a major sending country for FDWs.

The guest speaker was Mr Ade Adam Noh, deputy of the recently set up National Agency for the Placement and Protection of Overseas Labour. The institution which comes directly under the President's office was hailed by activists as a positive outcome of years of hard work in advocating the need to protect the rights of migrant workers including FDWs.


The campaign toolkit is the outcome of the Regional Summit on Foreign Migrant Domestic Workers held from 26-28 August 2002 in Colombo, Sri Lanka, whereby 132 NGOs, governments, and UN agencies pledged to protect and realise FDW rights including health rights through what is known as the Colombo Declaration.

Present labour laws in receiving countries in the region exclude domestic work from legal frameworks and remedies, failing to defend them from any labour and human rights violations by unscrupulous agencies as well as exploitative and abusive employers.

Unrecognised as a worker protected under labour laws, the state of a FDW wellbeing is entirely at the mercy of employers' kindness said Cynthia Gabriel, Regional Coordinator for CARAM Asia.

In a focus group discussion carried out by CARAM Asia with abused domestic worker, 23 year old Aini (not her real name) from Bandung, Indonesia shared:
"I want to visit a doctor, but how am I to do so when I have no money. The employer is holding our salary. The employer will not allow me, if I want to go to the clinic. We cannot fight what she says. Therefore we bear the pain. It will recover in a few days. If we want to recover, we have to keep bearing the pain."
Women constitute 95 million or 49.6 per cent of all international migrants; in Asia numbers of female migrant workers have far surpassed men in countries such as the Philippines, Sri Lanka and Indonesia (UNFPA State of World Population 2006 Report). Most migrant women are engaged in the informal sector of domestic work. The vast majority of them are employed in the Middle East, Singapore, Malaysia and Hong Kong. There are approximately 160,000 migrant domestic workers in Singapore and 300,000 in Malaysia.
FDWs should enjoy equal rights of all workers. This includes not only the right to physical and mental health, but sexual and reproductive health and rights too. Just like any native workers, they ought to have the right to rest days, termination benefits and maternity benefits, said Zia Ahmad Awan, a member of CARAM Asia's Board of Directors, and convener of the taskforce on FDWs.
"Through CARAM Asia's participatory action research conducted in 13 countries throughout Asia involving foreign workers directly, we find that when workers went to see doctors, they face language barriers. They are not well informed. Moreover, according to a number of doctors, the employers tend to bring their domestic worker only when the health problem threatens family safety," said Cynthia Gabriel.
Foreign worker's health rights are further compromised when they are unable to access health care in the same manner as the local population. For example, the Malaysian Double Fee policy requires foreigners in Malaysia to pay twice as much as locals for the same treatment, according to CARAM Asia's State of Health of Migrants 2005 report.
Meanwhile, as FDWs are isolated in private homes, their psycho-social and sexual needs are ignored. Their deprivation of such needs further escalates with:
single entry policies that do not allow them to bring their families and partners/spouses.
exploitation of under-aged girls which predispose them to the harsh risks of working in informal and unprotected areas of work.
prohibition on marriage in the destination country.
deportation on account of pregnancy, STIs and HIV/AIDS.
At the other end of the continuum some States like Bangladesh, Nepal and recently Sri Lanka have banned migration of women. Any ban and restrictions are counter productive as it leads to increased clandestine movement such as trafficking in persons, which in turn will lead to vulnerability to HIV, said Irene Fernandez, another member of CARAM Asia's Board of Directors.
The United Nations Convention on the Elimination of All Forms of Discrimination against Women(
CEDAW
), ratified by 35 countries in Asia Pacific (as of June 2005), covers the right to protection of health and to safety in working conditions, including the safeguarding of the function of reproduction for all women which does include female migrant workers. As signatories to CEDAW, States must honour and abide by these human rights principles.
CARAM Asia urged governments to create employment opportunities locally, instead of 'exporting' their citizens to service foreign debt and boost foreign exchange of their home countries via remittances. Reintegration programmes must be in place for FDW returnees to break the vicious cycle of migration.